Our Approach To Work
Our work includes everything from marketing strategy consultation, development and execution. Logo creation, template selection, and choosing the right hosting platform in preparation for future growth.

We use AI software to produce on-page content development and important SEO meta-data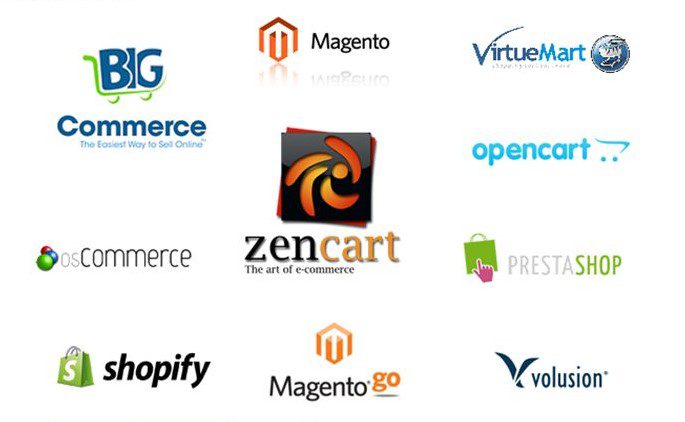 Compelling Content = Conversions
Custom website design involves working with a web designer or development team to create a website that is visually appealing, user-friendly, and optimized for search engines. However, we never take our eyes off-of-the-ball.

What's the ball?
The primary objective in having a web presence is to meet the needs of a specific target audience. In other words, all media content, SEO meta-data, and other digital assets must build trust, encourage site visitors to take a desired action.

Existing customers and prospective customers must have a pleasant user experience. They'll continue to revisit your website over and over again to get their needs met.
WEBSITE DEVELOPMENT & DESIGN
Our team of award-winning web developers create, design and host profitable websites on any platform.

We prefer and recommend; WordPress with WooCommerce and Elementor Pro, Divi, Magento, Shopify, Wix, and Big Commerce.
KJ ProWeb™ is an approved partner with the largest Software-As-A-Service (SaaS) companies in the world; Shopify, Wix, BigCommerce, WordPress + Elementor Pro expert, Magento and others.
Benefits of using WordPress over Wix and Shopify:

 

WordPress:

Flexibility: WordPress is an open-source platform that allows you to build any type of website you like. It is highly customizable, and you have complete control over your website's design and functionality.

SEO Capabilities:

WordPress is known for its SEO capabilities, and you can edit every aspect of your site to make it more search engine friendly.
Built for E-commerce: WordPress has a plugin called WooCommerce that makes it possible to run an online store on the platform.

Security: WordPress has a large community of developers who are constantly working to improve the platform's security.

---

Wix:

Ease of Use:

Wix is known for its user-friendly interface, making it a good option for beginners.
Built-in Features: Wix has a wide range of built-in features that are designed to get you selling right away.

Security:

Wix is a hosted solution, so you don't need to worry about backups and security.

---

 

Shopify:

Built for E-commerce: Shopify is a platform built specifically for commerce, so it has a wide range of features and tools designed to help you run an online or in-person store.
Scalability: Shopify is an excellent choice for scaling your business from a small company to a large enterprise.

24/7 Support:

 Shopify offers 24/7 support, which can be helpful if you run into any issues with your store.

In summary, WordPress is a good option if you want flexibility, SEO capabilities, and built-in e-commerce features. Wix is a good option if you want ease of use and built-in features. Shopify is a good option if you want a platform built specifically for commerce and scalability.
Seven reasons why the most profitable online brands have a custom-built website.

Businesses choose custom-built websites for several reasons. Here are some of the advantages of custom-built websites:

1. Unique website suited for your brand: A custom-built website is tailored to your business, which is essential to attract potential customers. Your website should speak about your company, as it serves as your brand image.

2. Better SEO: Custom-built websites are designed with SEO in mind, which can help improve your search engine rankings. This is because the website is built with the latest web design trends, and the code is optimized for search engines.

3. Security: Custom-built websites are more secure than pre-built templates because they are built from scratch with security in mind. Developers will always make updates for you and secure it against hackers.

4. Functionality optimized for your business: Custom-built websites allow you to create functionality that is specifically tailored to your unique business needs and your customers. This can help improve the user experience and increase customer engagement.

5. Branding: Custom-built websites are designed to fit your brand identity and the rest of your marketing materials. This is essential not just for aesthetic reasons, but because these items help customers trust you more when it comes time to take your services or buy from you.

6. Improved user experience: Custom-built websites are designed to be easy to navigate and provide visitors with a better user experience. This can help keep visitors on your site longer and increase the chances of them becoming customers.

7. Ownership and control: With a custom-built website, you own the web design and code and also have complete control over your site. This allows you to make changes and updates as needed without relying on a third-party provider.

Overall, custom-built websites offer several advantages over pre-built templates, including better SEO, improved security, and functionality optimized for your business. They also allow you to create a unique brand identity and provide a better user experience for your customers.

Citations:
[1] https://purplecow.digital/advantages-of-custom-built-websites/
[2] https://www.deltaquestmedia.com/blog/benefits-custom-website-development
[3] https://www.parashifttech.com/blog/custom-website-design-the-benefits-of-a-custom-designed-and-built-site
[4] https://webolutions.com/5-critical-benefits-of-custom-website-design/
[5] https://www.atiba.com/benefits-of-custom-web-design/
[6] https://www.neelnetworks.com/blog/top-7-benefits-of-custom-website-design/
What are the benefits of having a custom-built website?

Custom website design offers several benefits, including:

Unique branding: A custom website design allows you to create a unique branding strategy that sets your business apart from competitors.

Better user experience: A custom website is designed with your target audience in mind, ensuring that the user experience is tailored to their needs and preferences.

Improved functionality: Custom websites can be built with specific features and functionalities that are unique to your business, improving its overall functionality and performance.

Scalability: Custom websites are built with scalability in mind, allowing them to grow and evolve as your business expands.

Search engine optimization: Custom website designs can be optimized for search engines, making it easier for potential customers to find your business online. Overall, a custom website design can help your business establish a strong online presence, improve user engagement, and increase conversions.
What is the cost of custom website design?
Benefits of Elementor Pro compared to Shopify:
The cost of custom website design can vary greatly depending on the specific needs and requirements of the project.
Factors that can affect the cost include;
The complexity of the design

The number of relevant pages needed

The level of customization required

…and the experience and expertise of the designer.
Generally, custom website design can range anywhere from a few hundred dollars to several thousand dollars or more.
It is important to research and compare prices from different designers to find one that fits your budget and can deliver the quality of work you need.
Reach out and let us know the type of service or solution that you need.
Fill in the details below to receive a quote.