Content Creation & Copywriting
It's content, not your logo, that captures the attention of prospective customer looking to buy what you sell.
It's well written content that differentiates and distinguishes your products, services and from the competition.
Content development is what inspires website visitors to take a desired action. Let's get your online content on point.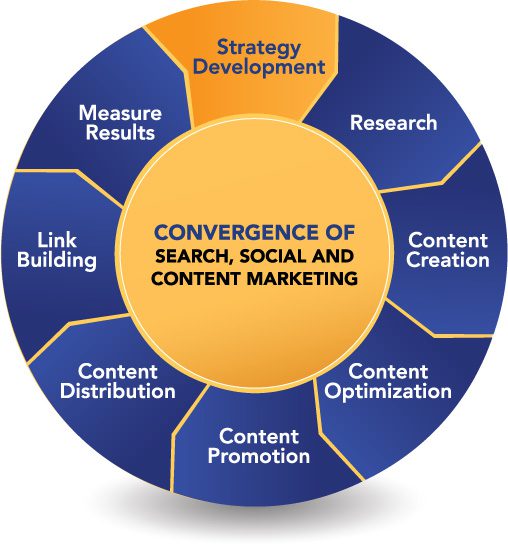 Our Content Development Strategy Done Right
Establish a Content Development Process 
Create a process for creating, editing, managing (storing), and publishing content that ensures consistency and quality.
Optimize for SERP and Conversions

Incorporate search engine optimization (SEO) techniques into your content to improve its visibility and ranking on search engines.
Promote and Promote Your Content
Now that you have strong content, prepare to market it. Develop a plan for promoting your content through social media, email marketing, and other channels.
Measure and Analyze
Track the performance of your content and use analytics to identify what works and what doesn't. Use this information to refine your content development strategy.
Content Development Toolkit
WordTune AI

 
Smart Copy AI - Produce Content in Minutes, Not Days

 

SmartCopy AI is an AI-powered copy generator tool that can help businesses and individuals create high-quality, engaging content for their marketing campaigns, websites, and more.

SmartCopy AI can also generate product descriptions and import products for social media marketing.

Here are some benefits of using SmartCopy AI:

– **Saves time and money**: SmartCopy AI can generate copy quickly, saving businesses and individuals time and money that would otherwise be spent on manual copywriting.

– **Increases engagement**: SmartCopy AI uses advanced natural language processing to create copy that resonates with the target audience, increasing engagement and driving action.

– **Reduces writer's block**: SmartCopy AI can help individuals who struggle with writer's block by taking their ideas and creating new content that matches their ideas with little effort.

– **Offers a free version**: SmartCopy AI offers a free version that provides a high-quality option for those who cannot afford the paid versions.

– **Consistently updated**: SmartCopy AI is consistently updated with new features, making it better at what it does.

– **Manually editable**: SmartCopy AI allows users to manually edit the generated material with tools including a grammar checker, tone checker, sentence formatter, and more.

Overall, SmartCopy AI can be a solid weapon for content creators to create content as fast as possible.
Scalenut: AI powered Content Writer.

 

Here at KJ Proweb, we use Scalenut every day!

Create and write content about anything & everything in a single click. Save time, increase your productivity, and never be stuck for ideas again.

Writer's block? Never again. Scalenut chrome extension provides a powerful AI assistant to enable powerful writing in your browser and help you write excellent, plagiarism-free content at flash speed.

Our AI-powered writing assistant generates superior content across applications (Gmail, Facebook, LinkedIn, Quora, Twitter and more). Use it to write social media posts, blogs, emails, ad copy, and so much more. AI Copywriter gives you quality copy, saved time, and peace of mind all in a few clicks!

★ Templates:

Write emails, social media posts, responses to reviews, google ads copy or even answers to questions in just a couple of clicks with 'Templates'. AI Copywriter understands your inputs and generates killer copy to match.

★ Rephrase:

Don't like how it sounds? Choose the 'Rephrase' option. AI Copywriter rewrites your sentence and offers you multiple, plagiarism-free options to choose from. Never settle for underwhelming copy anymore.

★ Command:

Your real-life genie, the 'Command' function elaborates on your selected phrase or sentence. Get quick, relevant paragraphs on just about anything in a single click. Your wish is its command.

★ Complete:

Writing a block of text and unsure how to complete it? As the name suggests, 'Complete' does just that for you. It uses AI to comprehend the context and presents you with the perfect words to create a flawless piece of copy.

★ Simplify:

Finding it hard to KISS it? Leave it to AI. 'Simplify' analyzes your long, complex sentences and transforms them into easy-to-read ones. One-click to on-point, simplified sentences that create an effortless reading experience.

Why Scalenut AI Copywriter?

✦ Easy-to-Use

✦ Smooth Performance

✦ Powerful AI

✦ Original & Engaging Content

✦ Endless Use Cases

Scalenut's AI Writer uses a deep learning model to write like humans. The tool knows words and sentences after reading through hundreds of billions of words. It develops exceptional content that reads, communicates, and engages just like a human.

Made for and used by Content Writers, Marketing Managers, Content Strategists, and other professionals to produce outstanding content, every time.

→ Install now and get started in under a minute. Generate up to 2,000 short-form AI words for free.

⇧ Upgrade to the full version on the Scalenut website. Access 40+ use cases, create long-form content, get 24헑7 support, and so much more.

Want to know more?

Find out here: https://www.scalenut.com/chrome-extension
AISEO - AI Writing Companion.

 

Get writing superpowers with AISEO's advanced AI tools. You can create and paraphrase unique content in 26 different languages.

You can paraphrase and generate content in 26 languages.

Get the Google chrome extension 

 

---

 
Unbounce.com

Unbounce is a landing page and conversion marketing platform that offers several benefits for content development. Here are some of the key benefits of using Unbounce:

1. **Easy-to-use drag-and-drop builder: Unbounce's drag-and-drop builder allows users to create and publish landing pages without the need for coding or technical expertise[1][2][3]. This feature makes it accessible to marketers of all skill levels, from beginners to advanced users[2].

2. **Time-saving: Unbounce enables marketers to create, edit, and publish landing pages quickly, often in under an hour[1]. This efficiency can save valuable time and resources, allowing marketers to focus on other important tasks[4].

3. **Conversion optimization: Unbounce provides conversion intelligence insights that help improve campaign performance[2]. It offers features like A/B testing and variant creation, allowing marketers to test different versions of their landing pages and optimize them for better conversion rates[6].

4. **Template library: Unbounce offers a wide range of pre-designed landing page templates that can be customized to reflect your brand and marketing message[2][5]. This feature eliminates the need to start from scratch and provides a starting point for creating visually appealing and effective landing pages.

5. **Integration capabilities: Unbounce seamlessly integrates with popular CRM systems, email software, and analytics platforms, allowing marketers to send leads and data collected from Unbounce directly to other tools they use[1]. This integration streamlines workflows and ensures data consistency across platforms.

6. **Insightful analytics: Unbounce provides detailed statistics and reporting on landing page performance, allowing marketers to track and analyze key metrics[6]. This data helps in understanding the effectiveness of campaigns and making data-driven decisions for optimization.

7. **Community support: Unbounce has an active and supportive community of users who share ideas, tips, and best practices[2]. This community can be a valuable resource for marketers looking to learn and improve their skills.

Overall, Unbounce offers a user-friendly platform with features that simplify the process of creating and optimizing landing pages. It saves time, improves conversion rates, and provides valuable insights for marketers.
Rytr AI

 

Visit http://rytr.me/

Or download the Google Chrome extension.

---

 

Rytr is an AI copywriting tool that helps you create high-quality content, in just a few seconds, at a fraction of the cost.

✍️ With Rytr's browser extension, it's never been easier to create stunning copy — whether you're working on Gmail, Facebook, or WordPress, Rytr will save you time and ensure your content is always up to snuff!

– Access 30+ use cases & templates

– Supports 30+ languages and 20+ tones

– Write sales & marketing emails that get replies

– Discover ideas & write engaging content for blog

– Generate creative, catchy copies for social media

– Write product, job, profile, video descriptions

– Generate interesting caption ideas for Instagram post

– In-built native plagiarism checker (powered by Copyscape)

– Workflow and team management features

Generate killer content, effortlessly.  Reword, shorten and do much more to improve the content quality before hitting that submit button.

Seamlessly manage your writing workflow Relieve the stress of juggling multiple projects by providing seamless collaboration, team billing and robust project management features — all without the hefty price tag! 
Diib AI

 

Diib AI is an all-in-one SEO tool that uses advanced algorithms and artificial intelligence to help website owners grow their businesses faster.

https://www.diib.com/?ref=kevinjames9

Diib AI can audit a website, identify opportunities for improvement, and track progress over time.
It can also monitor the overall health of a website, including its speed, security, and core vitals.
Additionally, Diib AI can help users track competitors and benchmark against their traffic and keywords.
Beyond SEO,

Diib AI can analyze social data

from Facebook and Instagram and even analyze local map rankings.
The tool provides users with actionable insights on how to grow their website traffic and improve conversions.

Diib AI offers additional services beyond being an SEO checker and tool, and it can help users grow their websites even if they are not working with an SEO company.
Shila
Brand & Creative Specialist
Barbara
Production team lead
Amit
Server Administrator
Edmond
Influencer program manager
Harold
PPC Campaign manager
Reach out and let us know the type of service or solution that you need.
Fill in the details below to receive a quote.